KHS Goes Green!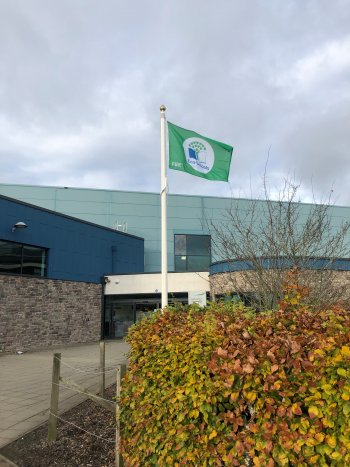 With the eyes of the world turning to Scotland as Glasgow hosts COP26, our learning community have been partaking in events designed to enhance awareness of climate change and engage young minds with what has been hailed as the last chance to keep global temperature from rising by 2̊C.
Mr Collier, Science Teacher and head of the Eco-Committee has been hosting a series of assemblies which explain to pupils what COP26 is and why it's so important that everyone in our learning community plays their part in reducing carbon emissions. As well as encouraging pupils to get involved in the Junior Science Club and Eco-Committee, he also highlighted ways young people could become more active in the local community; Loch Leven Community Library are hosting a series of events for the duration of the conference including COP26: Make Your Own Protest Sign drop-in workshop. This event is a shout out to young people who are passionate about the Climate Emergency and want to express themselves. The resulting signs will be put on display for the public to see as part of a COP26 exhibition in the library.
The 26th Conference of Parties will bring representatives from 197 countries together making it the biggest summit ever hosted in the UK. Presidents, prime ministers and leaders from around the globe will report back on progress made since the 2015 Paris Agreement and negotiate how best to tackle the climate crisis.
One lucky pupil getting the chance to attend the summit is Callum Alexander in S4. After winning the Keep Scotland Beautiful competition, Callum has the unique opportunity to provide coverage of COP26 as a Young Reporter for the Environment. During lockdown, Callum spent his spare time working on his Global Report which calls for several international environmental and human rights laws to be passed during COP26 to prevent irreversible disaster to the world's ecology, economy and future generations. What's more, the youngster's fervent ambition to highlight how global weather events are threatening the planet's wildlife spurred him on to set up his own animal protection charity back in 2019. Callum will join 3 other young reporters from around the UK who will attend conferences, conduct interviews, explore the blue zone usually reserved for only Ministers and accredited government officials, act as speakers in several events and so much more! Ahead of his latest venture, Callum said, "I am very excited to be attending COP26 in my home country. It will be a once in a lifetime opportunity to gain such valuable knowledge and understanding of the world's most pivotal issues. I am very much looking forward to meeting like-minded people from across the globe so that we can all learn and collaborate together." Scroll to the bottom to watch Callum's speech at the Foundation for Environmental Education event at COP26. 
What's more, the Eco Committee have been successful in achieving Green Flag status for Kinross High School. The group, mostly made up of senior students, worked throughout the year to make KHS as environmentally friendly as possible. Empty plastic bottles were collected from the dining areas, as well as from local residents and businesses around Kinross. The responsible bunch then used these to build a greenhouse in the Pupil Support garden, preventing the materials being sent to landfill or ending up in the ocean. Since we started building our eco credentials three years ago, the greenhouse is just one of many green initiatives including removing all plastics and non-recyclable cutlery from lunches during 'Plastic Free Week' and collecting waste paper from classrooms around the school to ensure it is recycled properly. The school aims to continue tackling climate change by building on our recycling goals as well as looking at how the school grounds can be made more habitable by local flora and fauna.
Headteacher Mrs Brown commended the strong example set by the Eco-Committee, saying,

"In my experience, both teachers and pupils care about environmental issues and want to make positive change. The COP26 conference, currently underway in Glasgow, underlines the importance of us all acting now to protect our planet. I am delighted that the school's eco group has achieved Green Flag Status. This recognises the hard work that has been undertaken to engage with environmental issues.  I would like to take the opportunity to congratulate the group for their achievement and I look forward to seeing more from the pupils who are currently involved in Eco-schools."
Callum's Call to Action at COP26
Click here to read more about Callum's experience of COP26 in the Courier.
Click here to see the Perthshire Advertiser article about the Eco Committee.