Tilda Rice Experience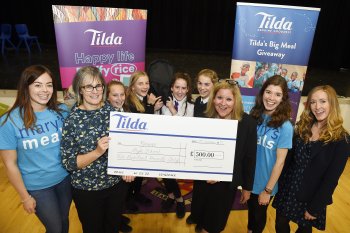 Thanks to the Home Economics department's commitment to promoting healthy eating across the curriculum, we recently won a Tilda Rice Experience Day. Now in its fourth year, the Tilda Together competition focuses on the role nutrition plays in healthy bodies and healthy minds. This year's theme is centres on Tilda's partnership with the charity Mary's Meals. The charity provides life-changing daily meals to impoverished school children in 17 countries across Africa, Asia, Latin America, Eastern Europe and the Caribbean. As part of this, our Higher Health and Food Technology class had a talk which covered career choices and nutritional information, and a cooking lesson led by a qualified dietician; the Higher Geography class saw a presentation by Mary's Meals which linked in with their studies on Development and Health; and S1 classes helped to pack 60 backpacks which the charity will distribute to school children across the globe. S1s discussed the best present they had been given and compared this with answers from children less fortunate than themselves. Tayside Contracts helped to support this event by making rice the key menu component for the day. In addition to all the inspiring activities, the HE department also won £500 and a 25kg bag of Tilda rice. Soon there will be a case study produced based on the work of the HE department in KHS which will be shared across the UK as a model of good practice.   
A great day was had by all and to quote one of the Tilda rice representatives, "It was such a fantastic day on Tuesday, and we are completely blown away by the school's amazing facilities and the pupils who were so engaged in the activities - we hope that the pupils all enjoyed the day!" We can all be very proud of KHS young people!