Christmas 2019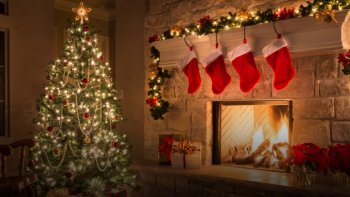 What a wonderful Christmas time it's been during the last week of term here at Kinross High School! 
At the start of the week, the seniors held an epic Lip Sync battle and although Mr Peddie and Modern Languages put in a valiant effort, they were pipped at the post by The Ho Ho Hos, a trio of prefect boys who amused the audience with their version of Jingle Bell Rock  in the style of 'Mean Girls'. Later that evening, our S1-S3 pupils stepped into Christmas at their Christmas Party with festive music, fun games and some dancing! The following day, the seniors did more of the same at their Winter Ball. We hope the celebrations were a chance for students to have fun with friends and forget about school (for a little while at least)!
Our annual Christmas Concert delighted guests with a variety of festive arrangements performed by our incredibly talented vocalist and instrumentalists. The orchestra opened the show with a medley of Christmas classics. The audience, led in song by the chamber choir, participated in a special performance of Hark! The Herald Angels Sing which really paved the way for the string orchestra, junior choir, wind band, cello ensemble and percussionists to showcase a selection of festive music. Guests enjoyed biscuits and cakes during the interval before commencing the second half of the concert which included performances from the newly formed jazz band, chamber group, ukulele ensemble and S6 pupil Eleanor who won the local heat of the Rotary Young Musician Competition recently. The audience joined in with a rendition of O Come All Ye Faithful before listening to Mrs Brown's vote of thanks. An evening of such impressive displays of musical talent certainly requires a lot of planning and preparation, not to mention hours and hours of rehearsals. Special thanks to the Music Department for their dedication, the Home Economics department for the catering and all the people behind the scenes who made the Christmas Concert possible. The Orchestra played Jingle Bells Forever as the finale piece to much applause and praise from the audience. Well done to our young people who work so hard throughout the year to make the Christmas Concert possible. Their talent and determination blows us away every time. 
The end of term celebrations don't stop there! Pupils spend their final day rotating between time with their TSG class, the ceilidh and the Christmas Assembly where we have the chance to enjoy musical and dance performances and the much anticipated staff video is unveiled! 
From all the pupils and staff at Kinross High School, have a very Merry Christmas and best wishes for 2020!