Callum's Charity Achievements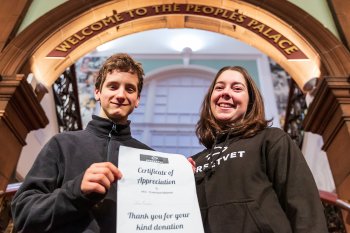 S2 pupil Callum Alexander has recently been named as one of Fife Herald's top 10 Community Champions for 2019 for his incredible fundraising efforts.
After learning about how humans are having an increasingly negative impact on wildlife, Callum set up his own charity called Protection For Animals. PFA has raised over £300 so far which has been divvied up between various animal charities close to the youngster's heart; Fife Zoo benefited from a contribution of £100, half of which funded an enclosure for their ring-tailed lemurs. Callum also donated to Dogs4Wildlife, an organisation which trains dogs to protect other species from poachers, and StreetVet who care for the furry companions of homeless people.
In the devastating wake of the Australian bushfires Callum said, "Like everyone else, I am very upset to hear about the great losses of half a billion animals so thanks to our ongoing fundraising efforts, PFA has donated £30 to the Mallacoota Wildlife Shelter."
As well as his extraordinary efforts in fundraising, Callum also attended a plastic pick-up in Edinburgh and plans to organise a similar event locally: "When I took part in the beach clean-up in Edinburgh I was astounded at the vast number of wet wipes. We gathered three bin bags brimming with them. The thing is, you don't realise they are there as they are hidden in the sand. I am keen to organise a clean-up in our local area over the coming months. Hopefully some people will pop along and help out too."
Not only is Callum attracting local recognition, but he was also excited to open a letter from his hero David Attenborough!
Callum has already done so much to raise awareness and funds but he doesn't intend to stop there. The teen is writing a book about how the natural world is being destroyed by people and has penned three chapters already! He hopes to publish his work ahead of the Glasgow Climate Conference in November.
Here at KHS, we are so proud of Callum's dedication to bettering the lives of animals and exemplifying our core values – ambitious, responsible, resilient and compassionate. Callum's Art and Design teacher commented, "Having taught Callum for two years he has shown himself to be kind, selfless and willing to work hard to make a difference." Well done Callum!
Facebook @Protection4animals